October 20, 2023.   Technology and data are integral to daily life—and to handling crises.
This is equally true in health. Digital solutions and data are powerful accelerators in the ongoing transformation of health systems and how health care is delivered for everyone.
But current approaches are opportunistic, piecemeal, and fragmented. New thinking—a digital-in-health approach—is needed to get more value out of technology and data, ensuring health systems deliver care that is accessible, equitable and cost-effective, in normal ties and during emergencies, as findings from the COVID-19 pandemic demonstrate.
Digital in health emergencies: Lessons from COVID-19
Data from the COVID-19 pandemic spotlight the real-time power of this approach. During the pandemic, countries with higher levels of digital adoption prior to the pandemic responded more effectively to the pandemic, exhibited more decisive government action, and, as a result, had fewer COVID cases and deaths. Heinrichs et al. (2022) found that a country's level of digital adoption (prior to COVID-19) was almost as influential as demographic and lifestyle factors in predicting COVID-19 deaths and cases (Figure 1).[1]
Figure 1. Links between Digital Adaptation prior to COVID-19 and COVID-19 Cases and Deaths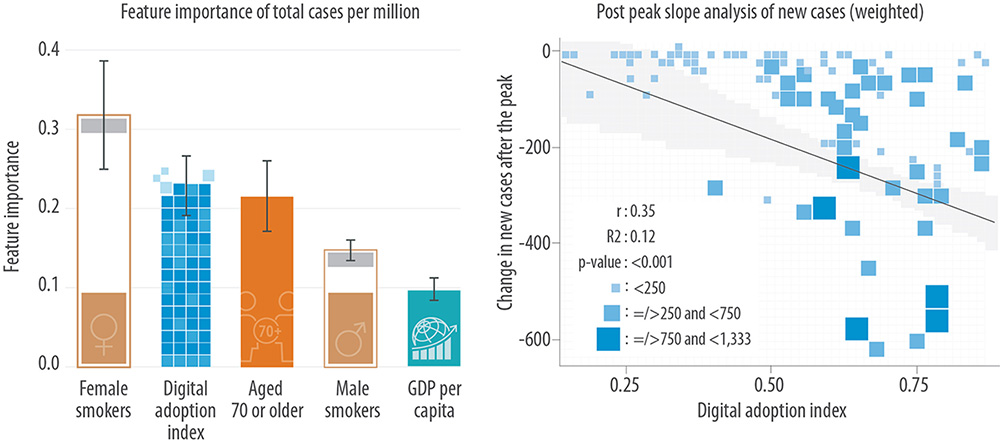 Source: Heinrichs et al. 2022.
Note: Panel (a) shows that the level of digital adoption prior to COVID-19 was as instrumental in determining the total COVID cases per million population as biological determinants, such as the share of females who smoke population. Panel (b) shows that countries with larger changes in post-peak new COVID-19 cases had higher levels of digital adoption prior to COVID-19.
Moreover, a scoping review of the causes of COVID-19 cases and deaths identified the lack of digital infrastructure as one of the strongest contenders (Figure 2).
Figure 2. Factors Contributing Most to COVID-19 Deaths and Cases After the Peak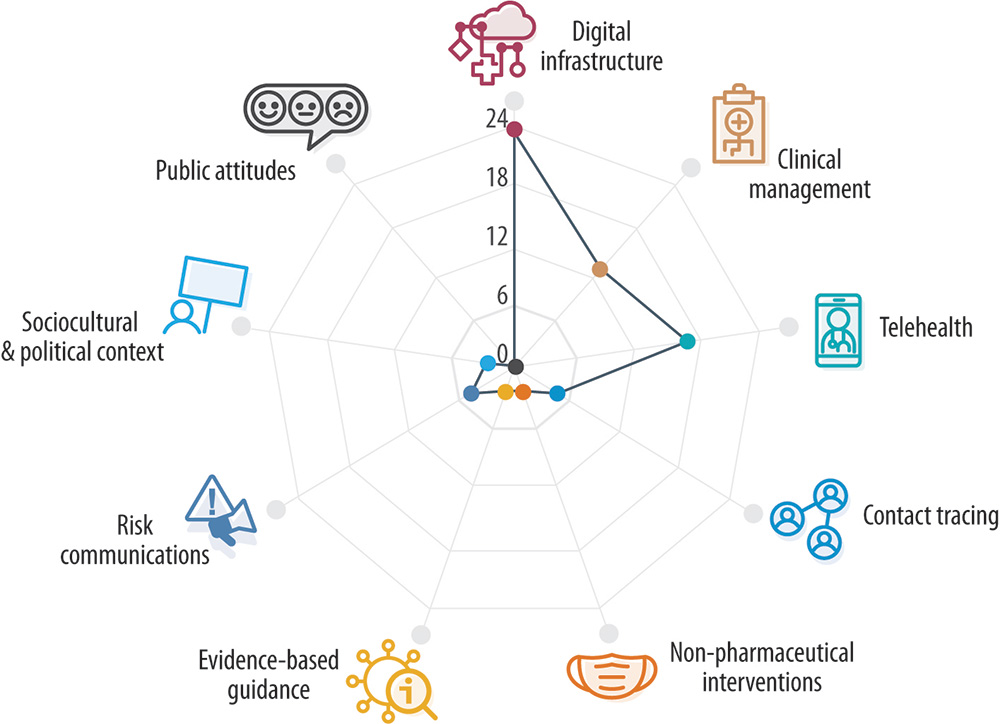 Source: Heinrichs et al. 2022.
In-country examples from the pandemic also support this approach. Countries that have been more successful in their COVID-19 responses have embedded technology and data in their health systems. Togo, for example, used digital tools to rapidly roll out an emergency cash transfers to vulnerable populations and vaccinate their citizens. In Indonesia, the Ministry of Health created a digital transformation office to improve health information and digital technology certification processes.
In short, it is clear that the expansion of digital technology should become a cornerstone of health system resilience and pandemic preparedness.
Making it happen: Three essential areas to guide investments
Digital-in-health goes beyond the conventional understanding of digital health by integrating technology and data across various aspects of health systems including across health emergency preparedness and response.
Governments play an essential role: they must foster trust in and build capacity for digital technology use in health systems, promote fairness, and bridge the digital chasm rather than broaden it. To do this well, as noted in a recent World Bank report on digital-in-health, countries will need to focus on the three key principles: prioritize, connect, and scale (Figure 3):
Prioritize by choosing evidence-based digital solutions that respond to people's health needs and are equitable.
Connect to deliver new, more, better, and seamless health services: through leadership and partnership, data governance and regulations, and filling gaps in information and digital infrastructure.
Scale to ensure equitable access to all: improve digital skills and literacy, create synergies with wider digital transformation agendas, foster nimble public-private and private-private partnerships, and support with financing, monitoring, and implementation.
Figure 3.  Guiding Digital Investments: Prioritize, Connect, and Scale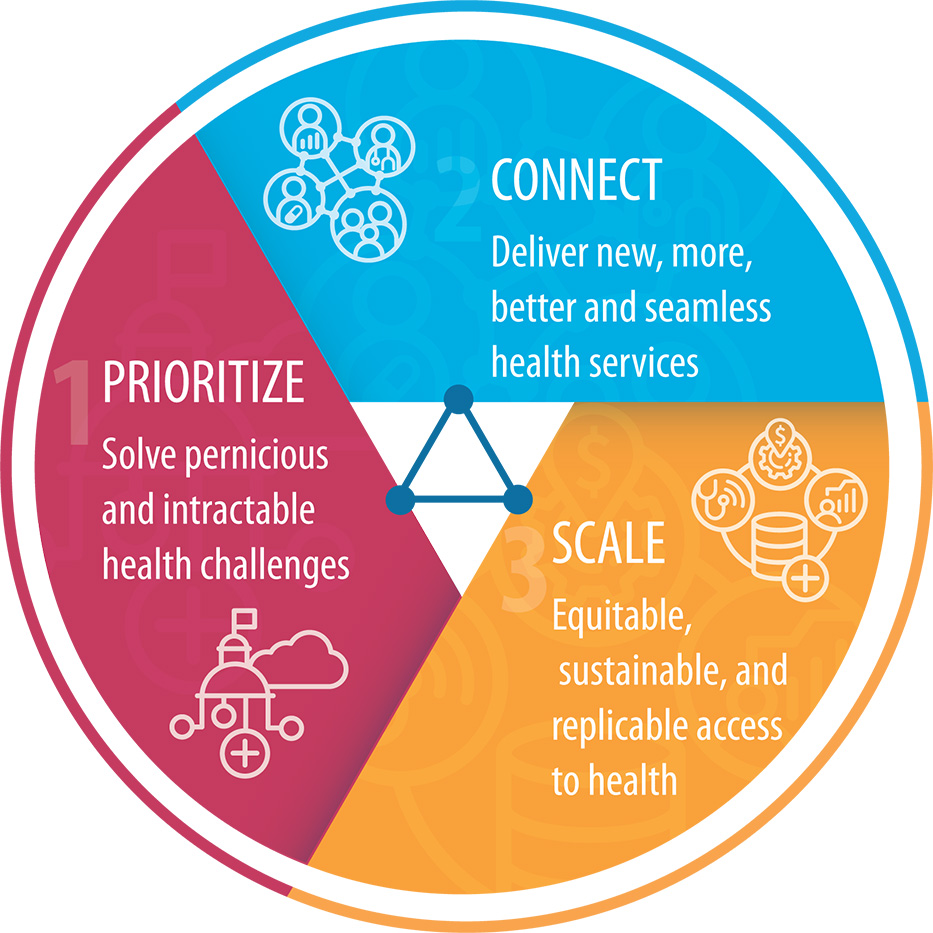 Navigating these waters of innovation will not be without obstacles. But with the right strategy—one that involves strong country leadership, good health data governance, private sector collaboration, evidence-based decision-making, a focus on interoperability and wider digital transformation across government systems and in society, and a keen eye on sustainability—the promised value of digital technologies can be realized for everyone in every health emergency.
[1] H. Heinrichs, F. Mueller, L. Rohfleisch, V. Schulz, S.R. Talbot, and F. Kiessling, 2022, "Digitalization Impacts the COVID-19 Pandemic and the Stringency of Government Measures." Scientific Reports 12(1): 21628. https://www.nature.com/articles/s41598-022-24726-0.