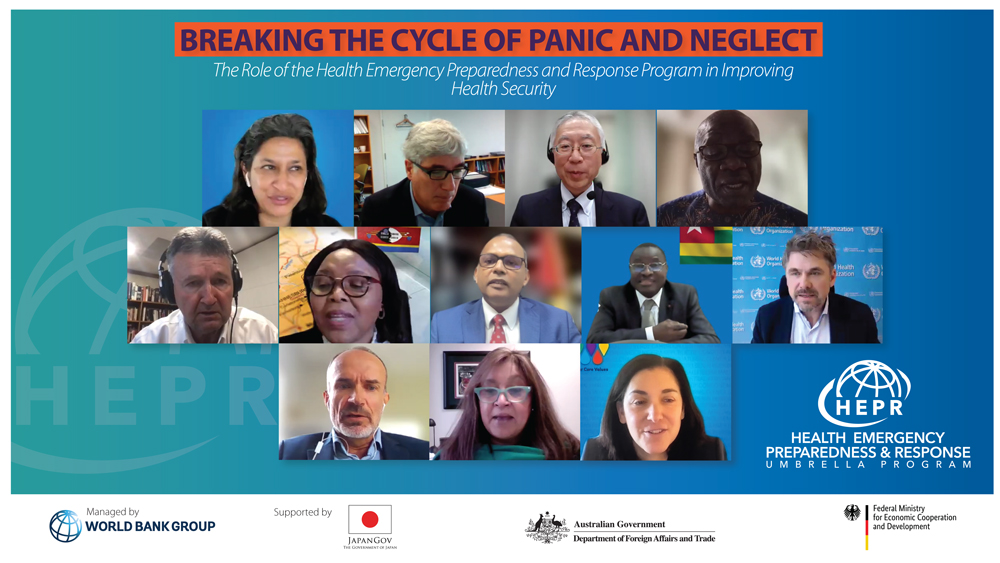 HEPR PROGRAM HOSTS HIGH-LEVEL EVENT
Wednesday 27 April 2022 | HEPRプログラム年次報告書 | The World Bank convened a high-level online event to launch its first-ever annual report by convening a distinguished panel of speakers to learn about their perspectives on the future of health emergency preparedness, and to recognize the efforts of countries in health emergency preparedness and response.
Chaired by Mr. Juan Pablo Uribe, Global Director: Health, Nutrition and Population and Director: Global Financing Facility, World Bank, the event also featured opening remarks by Ms. Mamta Murthi, Vice President for Human Development, World Bank, and additional remarks by Mr. Kentaro Ogata, Deputy Vice Minister for International Affairs, Ministry of Finance, Japan, and Mr. Robin Davies, First Assistant Secretary, Global Health Division and concurrently Head of Indo-Pacific Centre for Health Security, Department of Foreign Affairs and Trade, Australia including:
H.E. Senator Lizzie Nkosi, Minister of Health, Eswatini
H.E. Dr. Frank Anthony, Minister of Health, Guyana
H.E. Professor Moustafa Mijiyawa, Minister of Health and Social Security, Togo  
Professor Christian Happi, Director of Africa Center of Excellence in Genomics of Infectious Diseases
Mr. Scott Pendergast, Director of Health Emergencies, World Health Organization
Mr. Niels Holm-Nielsen, Practice Manager, GFDRR program, World Bank
Ms. Geeta Sethi, Advisor and Global Lead for Food Systems, World Bank
Detailed biographies of our high-level guest speakers and panelists are available as a PDF download here.
ANNUAL REPORT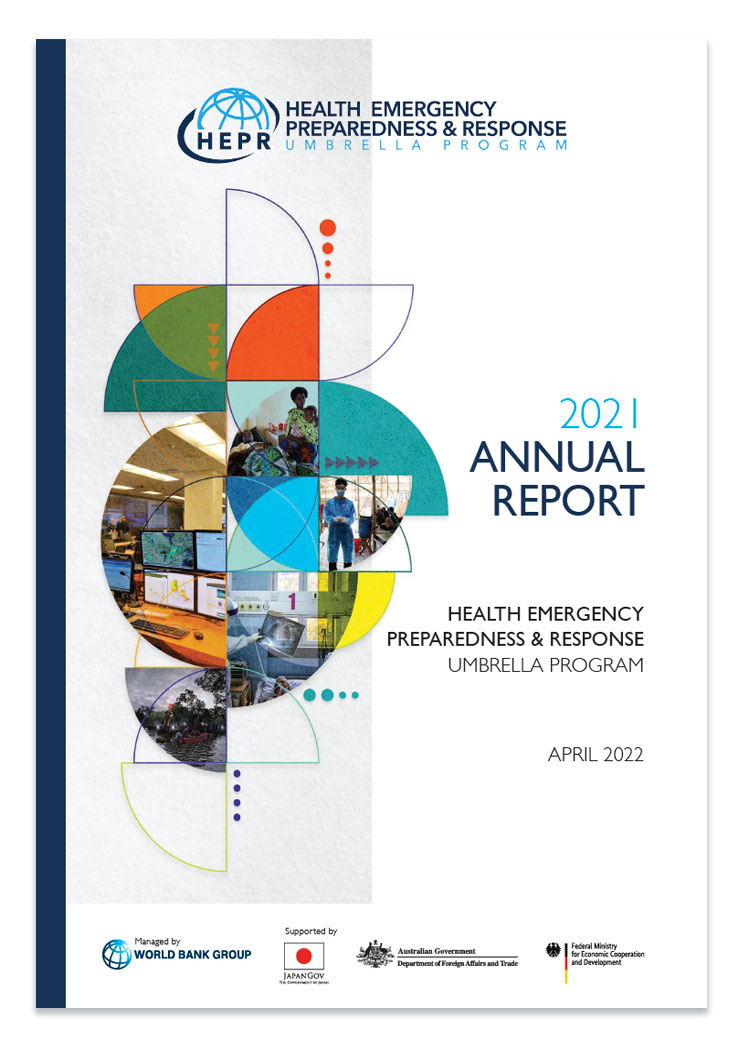 The 2021 HEPR annual report details work over the first 18 months of its existence to support low-income countries and countries with struggling health emergency responses in building resilience and increasing investments in health preparedness – including their immediate COVID-19 response. Highlighting key themes and spotlighting insights, the report provides progress updates from 27 HEPR Program-supported country and regional projects around the world and also addresses next steps for the road ahead, to support partners working to jump-start critical and innovative work in health emergency preparedness and response.
Spotlight stories cover work from Guyana to Togo and Indonesia, as well as regional efforts in Africa and Southeast Asia, in areas ranging from interventions to boost COVID-19 vaccine campaigns to using a One Health approach to strengthen preparedness.
THE HEPR PROGRAM VIDEO
The event also premiered a short video on the important role and impact of the HEPR Program, which featured results from a few of the projects it has supported to date. The video clearly demonstrates the value of not neglecting emergency preparedness and response when weighed against the enormous cost of panic and neglect.