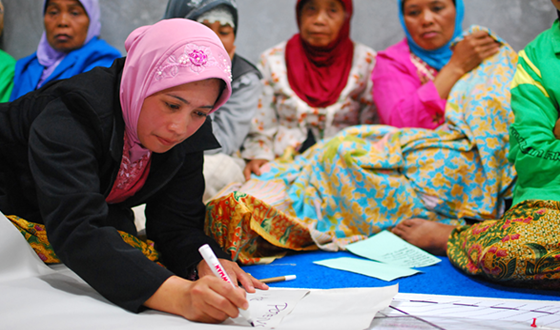 March 15, 2022 — With a population of over 270 million spread across a vast archipelago, Indonesia has faced unique challenges during the ongoing pandemic. The US$ 9.9 million results-based grant from the Health Emergency Preparedness and Response Program (HEPR Program) leverages financing from the World Bank and other partners in a strong multi-partner work that has led to a total US$ 1.75 billion in support of Indonesia's COVID response, including vaccination. In particular, the associated umbrella single donor trust fund contributed by the Government of Australia exemplifies the importance of collaboration and co-financing in this project.
The COVID-19 Program supported by the HEPR Program uses an innovative Program-for-Results financing instrument, in which disbursement to recipients happens against the achievement of results. The Government of Indonesia (GOI) has achieved the first set of its targets for 2021, which have been verified, and over two-thirds of the HEPR Program funding are ready for disbursement. The program is also on track to achieve all its 2022 targets and to disburse fully as per schedule.
Thanks to HEPR co-financing in the COVID-19 response, which is linked to key results in COVID-19 response and vaccination rollout, the GOI has been efficiently and effectively addressing the immediate problems caused by the pandemic by quickly strengthening its capacity and infrastructure. Vaccinations have picked up pace and have been consistently over 1 million vaccinations per day for several months in late 2021 and early 2022, achieving over 76 percent of the country's population having received at least one dose of COVID-19 vaccines. Indonesia strengthened its capacity to test for COVID-19 by creating a network of more than 900 new PCR testing labs and also undertaking regular genomic surveillance. Moreover, the country has created several thousand new critical and high care beds in existing medical facilities and has developed an equitable mobilization plan for mass vaccination that preserves a share of staffing to maintain essential on-COVID health and nutrition services.
The government has also made significant progress in preparing for any future epidemics through capacity building and disease monitoring—the training of human resources for COVID-19 vaccine delivery or the implementation of a pharmacovigilance system to monitor adverse events related to COVID-19 vaccine are examples of this success.
Areas of improvement remain in the fight against COVID-19 and in preparedness for future outbreaks. The latest review of the program observed that data collection, analysis, and presentation for the GOI's response to COVID-19 can be enhanced. More systematic monitoring of protocols on safe management of vaccine and infection prevention, assessing of available PPE, and strengthening inclusiveness in vaccine delivery are being pursued as work in progress.